| | |
| --- | --- |
| | The Languages Online app |
The Languages Online app contains learning resources for students from Yrs 3 - 8. It includes interactive tasks and supporting resources such as printable posters and worksheets.

The app is free. There are no in app purchases and no registration is requred. There are versions for iPads,Windows and Macs.

The app was developed by the Victorian School of Languages, Melbourne, Australia. The first version of the app was funded by Educational Services Australia. Additions in this version were funded by the Victorian Departement of Education.
The app includes activities for students learning:
French (8 topics)
Indonesian (24 topics)
Italian (8 topics)
Japanese (20 topics)
We hope to add more topics and languages as funding becomes available.
Using the app
Homepage
Select a language: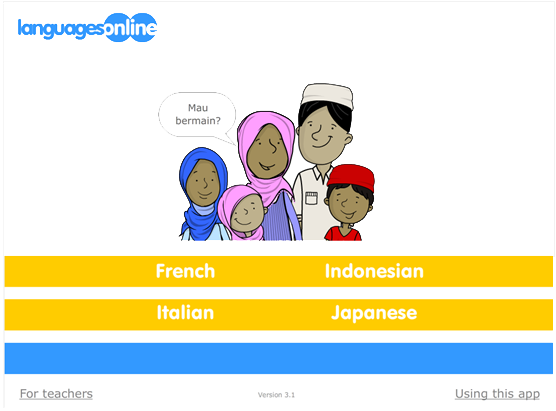 Language page
Language pages have two tabs:
Topics (default tab)
Select activities by topic. Topics are based on common beginner-level themes. Each topic has between 6 - 13 activities.

Skills
Select activities by the skills they practise. Select one or more skills and one or more topics. The app builds a list of activities that match your selections, which you can then play in a set or random order.

Topics page
Topics pages have two tabs:
Interactives Click to open and play an activity


Activities are divided into three groups:

1. Learn the words

These flashcards include key words and phrases used in the topic. The Flashcard section has three parts:

Learn: Introduces the words with a pronunciation audio button, together with the English translation.
Tap the audio button to repeat the voice recording, tap the card to reveal an English translation, swipe to move to the next card.
You can choose to see the words in the L2 first, or in English first. You can choose to learn the words in a set order or revise them in a random order. You can tap on 'Word list' to see a full list of the words and phrases to be learned.


Record: Record and play back your pronunciation of each word or phrase.
Tap on 'Record' and say the word. Tap on 'Play' to listen to your recording and compare it with the model recording. You can repeat your recording until you are happy with your pronunciation. These recordings are not saved.


Test: Test your understanding of the words and phrases with a simple multiple choice quiz.
You can choose how the words are presented in the test: the L2 words with multiple English options, or English word with multiple L2 options. Word or phrases appear in random order. Tap on the option that is the correct translation. If correct a tick appears, if wrong the correct option is shown and the Test moves to the next card. When all quizzes have been completed, a tally of correct answers is displayed. You can repeat the Test as many times as you like. See if you can get them all correct.
Your test score will be displayed as a percentage.

2. Practise the language

This section includes 5 - 10 short activities to help you practise understanding and using the key vocabulary of the topic. These activities are self-correcting. Questions are repeated until correct answers are given. An activity is completed only when all questions have been answered correctly and you hear a 'Well done!' message
There are a range of activity types including:

matching
categorising
drag and drop
crosswords
word searches
unjumbling letters
multiple choice
typing

3. Over to you

In these activities you show your understanding of the topic by typing and recording your own text. The content you create in these activities is saved on the device and can be viewed at any time.

Support resources: Key vocabulary, PDFs of posters, worksheets, vocabulary lists and MP3s of any songs.

Activity support
In most activities you can tap on a range of buttons on the yellow bar to view hints, explanations and information to help you complete the activity.

Instruction and Reload button appear on all activities. Other buttons appear as required.
Navigation
Use the bottom blue bar to navigate through the app. The example below is from an Activity page:
Progress & score
See your progress
Your progress through this app is recorded. A simple code enables you to see:
The activity type: 'Learn the words', 'Practice the language' or 'Over to you'
Which activities have been completed
How many times an activity has been completed
Whether the activity has been completed with a Bonus (see details below)

The points system
The following points are awarded each time a Flashcards 'Test' or a 'Practise the language' activity is completed:
100 points for the first time the activity is completed
50 points for the second time the activity is completed
10 points for the third and subsequent time(s) the activity is completed
Points are only awarded when activities are successfully completed and you see a 'Well done!' message.
Currently no points are awarded when an 'Over to you' activity is completed.
Bonus points
The flashcard 'Test' mode and all 'Practise the language' activities also have a simple bonus system. A bonus of 100 points is awarded the first time an activity is completed with no errors. In the case of timed activities (crosswords, word-searches and wordhunt) the bonus is awarded if the activity is completed within a set time.
In this first version, tracking is 'by device' only. The next version will include a teacher and student login option so that an individual student's progress is recorded regardless of the device or platform that is used. This will be useful if the users must share a class set of devices, or work with both school and home devices.
Clear your progress
You can clear the record of your progress by tapping the 'Clear your data' button on the top right of each languages main topic page.
Working online and offline
You must be connected to the Internet when you first open this app. It will automatically download all the content it needs.
You must also be connected to the Internet for the first time you open each activity. Once the content for that activity has been downloaded, it will be stored in your device's 'cache'. When you return to that activity, the cached files will be used and therefore no Internet connection is needed.
When your device is connected to the Internet it will check for and automatically download any updates.
Contact us
Feedback is welcome at: languagesonline@vsl.vic.edu.au
---